CALIFORNIA COLLEGIATE
LIVESTOCK SHOW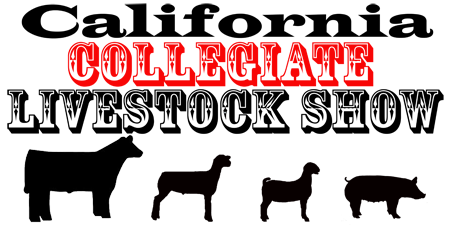 Beef, Lamb, Swine & Goat Livestock Show
With great sadness, we must announce the 2021 California Collegiate Livestock Show has been canceled due to gathering restrictions. 
If allowed, we may consider holding the show in the fall. THANK YOU for your continued support and participation. 
California Collegiate Livestock Show at the Porterville Fair Grounds
March 13 & 14, 2020
The California Collegiate Livestock Show was created March 2012 by Fair staff with the assistance of the late Ralph Loya of Reedley College. The "CCLS" provides an opportunity for college students to participate in an agricultural program beyond their high school years and an introduction for students that have never participated in ag classes before. Hands on experience is gained through classroom studies, caring for and showing livestock.
Contact
Porterville Fair
2700 W. Teapot Dome Ave.
Porterville, CA 93257
Phone 559.781.6582
Fax 559.781.4233
Email info@porterville.com
March 13th - 14th 2020
California Collegiate Livestock Show
Photos From California Collegiate Livestock Shows